Description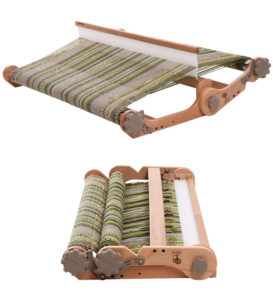 specifications
Available in three weaving widths
30cm, 50cm and 70cm (12 ins, 20 ins and 28 ins)
Includes 2 lacquered shuttles,
12″-10ins, 14ins
20″-14ins, 22ins
28″-22ins, 30ins
Warping tools – 7.5dpi reed, step by step instruction booklet, 2 shuttles, threading hook, warping peg and clamp.
Assembled and lacquered.
All Knitters looms are available as a combo – includes the Knitters loom carry bag.
Also available are 2.5, 5, 10 and 12.5 DPI reeds so you can weave fine to textured yarns.