In Sheep's Clothing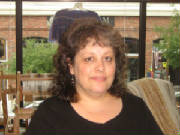 I'm Ginger Balch, and as the owner of In Sheep's Clothing Yarn Shop & Fiber Arts Studio, it is my pleasure to carry only the highest quality yarns and supplies. I have been knitting for over 35 years, and have worked in yarn retail for over 20 years. Having designed and created knitwear and accessories, you can be assured that you are in experienced hands. My work has been published in the Ashford Wheel Magazine, Spin-Off, and the Handwoven online magazine. I have also shown my work in local galleries and participated in various shows. I am a member of the Ct Handweavers Guild and the Ct Nutmeg Spinners Guild of which I am a twice former president. As an experienced Ashford dealer, who spins, weaves, and felts, I have hands-on knowledge of the looms, and spinning wheels I sell.
I also specialize and carry most Noro yarns, books, and magazines.
Service
I stand behind the products that I sell and will do everything I can to provide the best service for those products. I am only a call, drive, or e-mail away if you have a problem or a question. I stand behind all products that I sell. If there is ever an issue with any product please let me know so I can make things right.