Explore Felting an Amazing Fiber Art Technique
Wool can be transformed into felt using the techniques of needle felting and wet felting.
In Sheep's Clothing has everything you need to get start felting from supplies to classes.
Experienced felters will appreciate our wide supply of carded wool and felting tools.
Ashford Felting Wool
We offer 4 different sets. Each set has 12 colors and weighs approximately 14 oz. (400g). The wool is our fine Corriedale carded sliver from New Zealand.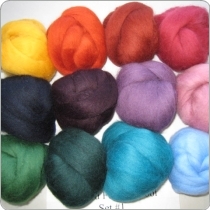 Pack 1 – Contents
01 moss, 02 navy, 03 marigold, 04 fir, 05 eggplant, 06 pumpkin, 07 teal, 08 lilac haze, 09 nutmeg, 10 sky blue, 11 rose, 12 berry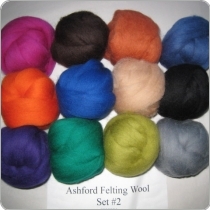 Pack 2 – Contents
13 periwinkle, 14 black, 16 smoke, 17 copper, 18 camel, 19 lima bean, 20 chocolate, 21 blue, 22 green, 23 magenta, 24 orange, 25 purple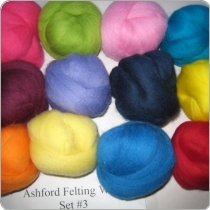 Pack 3 – Contents
26 turquoise, 27yellow, 28 red, 40 candy, 41 indigo, 42 lagoon, 43 lime, 44 lavender, 45 lemon, 46 pansy, 47 raspberry, 48 tangerine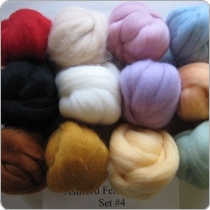 Pack 4 – Contents
15 chilli pepper, 29 cherub, 30 ice, 31 apricot, 32 mint, 33 cupcake, 34 sweet pea, 35 honey, 36 butterscotch, 37 toffee, 14 Black, Natural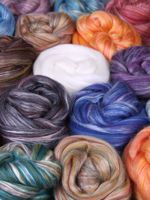 A sumptuous fibre blend in 15 beautiful random colour ways, 4 new to the collection, made from 80% New Zealand merino and 20% silk. The fine 22 micron merino and the lustre of the silk makes this a truly luxurious blend. Create fine, lacy and lightweight yarn for knitting or unique semi-worsted yarns for weaving. Available in 1kg (2.2lbs) bumps or in 100gm (3½oz) bags in 15 random colour ways.
The Merino sheep are well cared for and are not mulesed.
Juniper #098 – A midnight shade with blues, violet and black
Pomegranate #099 – Rich reds with a touch of lime
Saffron #100 – Fiery reds and gold
Cinnamon #101 – Warm earth tones
Peppercorns #102 – Forest shades of greens and brown
Salvia #103 – Jewel tones of blue, green and purple
Mulberry #104 – Glowing shades of red, mauve and gold
Poppy seed #105 – A sophisticated blend of black and silver with a touch of red
Spice #106 – Rich chocolate with warm tones of gold and tan
Damson #107 – Vivid blues with shots of raspberry and purple
Vanilla #108 – White on white
NEW Storm # 109 – Midnight shades of ruby and grey
NEW Sunset # 110 – Soothing warm tones from crimson to purple
NEW Sorbet # 111 – Pastel milkshake blend
NEW Gemstone # 112 – Rich jewel tones
Mauch Chunky Roving is a custom blended 100% wool roving which forms the base for our Mauch Chunky Yarn. As a roving it is an excellent choice for needle and wet felting or even for spinning. A wonderful, vivid variety of Mauch Chunky solids, heathers, and mélanges are available to add unique textures and tone-on-tone effects in your projects. Roving is available in 1 pound bags or in an 8oz sample box filled with 20 different handpicked colors. Made in the U.S.A. $5 per oz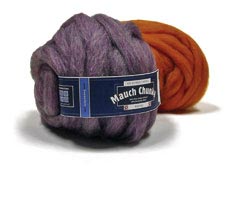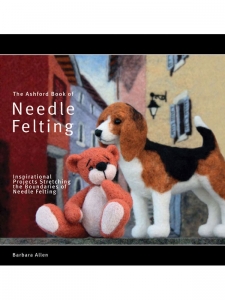 Ashford Book of Needle Felting
By Barbara Allen
Explore the unlimited potential of needle felting with Barbara Allen. Create your own adorable figures, beautiful flowers and scenes, striking jewellery and embellishments all in flat or sculpted felt. With just a little wool, a felting needle and this book you can create unique and wonderful felted works of art. If you haven't tried needle felting, here is the book to inspire you. Barbara, a popular teacher and author, explains and illustrates all the techniques, materials and equipment needed. For each project there are step-by-step instructions and full colour photographs of each process. There are projects for beginners and skilled felters and each project builds on the knowledge gained. By the book's end you will be experienced and confident to create your own masterpiece or try one of Barbara's beautiful Gallery pieces.
The book provides all the templates for the projects. 112 pages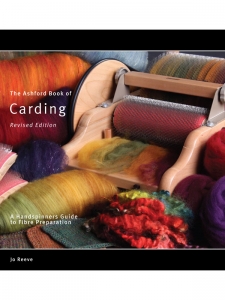 Ashford Book of Carding
Revised Edition By Jo Reeve
This popular, practical and inspirational guide has been completely revised and expanded!
New sections include wild carding and spinning art yarn, colour progression, blending exotic fibres and new projects using your hand carded fibre. Step by step instructions and full colour photographs will open a world of colour and texture.
Carders
Drum carders make fiber preparation easy – available in fine, course and superfine. The Wild Drum carder has been specifically designed for mixing blends for art yarns.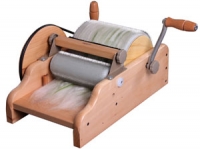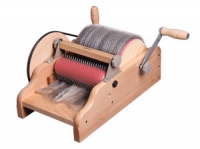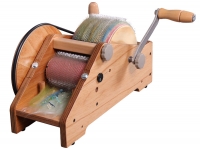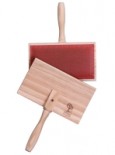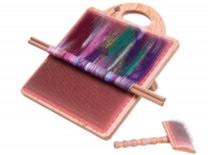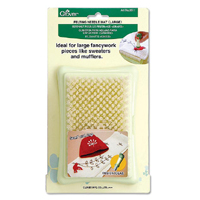 Felting Brush Mat, Large
$17.95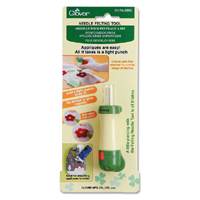 Needle Felting Tool
$16.95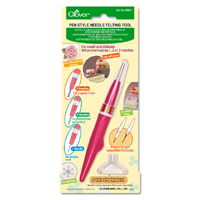 Pen Style Needle Felting Tool
$14.50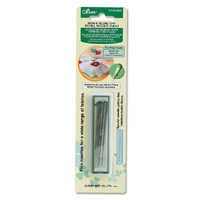 Refill Needle, Fine Weight and Heavy Weight
$8.00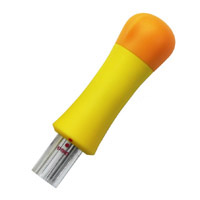 KA felting Tool Felting Needle, Thick
$16.20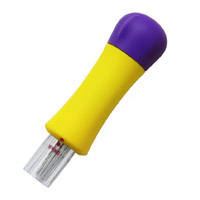 KA felting Tool Felting Needle, Thin
$15.30